It's been half a century since one of the most romanticized eras in American history-the happy days of leather jackets and poodle skirts, hot rods and doo-wop, and of courses, Elvis. The 1950's were also the heyday of drive-in restaurants, which once dotted the national landscape like the freckles on Richie Cunningham's face. And although that era may be gone (like Ron Howard's hair), its spirit lives on at the Sycamore Drive-In.
Located at the junction of routes 302 and 53 in Bethel, The Sycamore is celebrating 60 years of serving customers-through it doesn't appear to have changed much over the decades. The landmark restaurant is currently owned and operated by the Austin family-parents Gene and Christine, siblings Patrick and Kathy who purchased it a little over a decade ago.
"We get people from all over," says Kathy. "California, Maine, Florida-there was one guy from Mexico. We were on the Food Network ['Top 5: Summer Sensations'], and whenever they air that during the summer, this place is off the wall.
When I arrive on a Saturday night with my 9-year-old son, we discover it's not much bigger on the inside than it looks from the outside. It is, however, a classic drive-in: black-and-white tiled floor, humming neon signs, Formica tables and chrome-backed chairs. Ceiling fans turn slowly while The Penguins croon "Earth Angel" in the background; a Wurlitzer jukebox (stocked with Christine's old 45s) is tucked into a corner. An antique gas pump sits in the middle of the much-trafficked dining room. Kids spin around on the red-cushioned stools at the counter.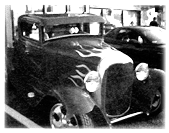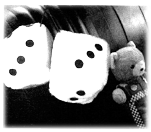 A recent trend in fine dining is "the open kitchen"-here it's always been that way, a long stainless steel grill that sizzles with all sorts of glorious roadside indulgences. The homemade fare is reasonably priced; the specialty is the "French-style" steakburgers-one hundred percent U.S. Choice ground round, served on toasted and buttered buns. The signature sandwich is the Dagwood Burger, "The Final Answer to The Burger": five ounces of ground steak topped with melted American cheese, mustard, ketchup, pickle, onion, tomato, lettuce and a dab of mayo. Yum!
Although the Sycamore offers car-side service (sorry, no rollerskating carhops), we opt to dine inside. The waitress tells us to sit anywhere, and we pile into a cozy booth. I order myself a Dagwood and fries while my son goes for the chicken-finger basket. The food arrives quickly-in less than 10 minutes-and hot from the grill, along with two cold mugs of The Sycamore's famous home-made root beer. ("It's really good!" says my son. Write that, and say how nice the waitress is.")
After we inhale our meal, I order one of The Sycamore's prized milkshakes. "I've never had one," my son claims, making me wonder how my wife and I could've missed this crucial part of his development. "Will I like it?" Once the first taste hits the back of
his throat, his lips don't leave the straw until it's gone, ice cream headache be damned!
Almost as cool as its shakes, The Sycamore host a cruise night every summer Saturday through the end of September. Classic-car enthusiasts gather like moths to a neon flame, showing and ogling dozens of lovingly preserved and
restored examples of the coolest muscle cars, trucks, and vehicles ever to grace American roads: Corvettes and Cadillacs, Mustangs and GTOs, deuce coupes and roadsters. Fuzzy dice seem to dangle from every rearview mirror.
"We get cars from all over," says Kathy, noting that her father made it a weekly event when they took over in'98. "The majority of the time we get about 60 cars, sometimes more, depending on the weather. We have a deejay and give out trophies every week - best hot rod, best custom rod, most original. We have a lot of people who met here and come back. And they're still married!" she laughs. "It brings them back to the past."
Happy days–and nights–indeed.